Hi Friends! Today is the day! Our gorgeous new 2021-2022 Annual Catalogue is LIVE! Our Starter Kits have increased with MORE FREE PRODUCTS of your choice! Our host rewards include an extra bonus with qualifying orders! WOWSA! All very exciting stuff, right?
Have you seen our new catalogue yet? If not, click on the image below to view it online:
To view the catalogue in French, click HERE.
RISK FREE DISCOUNTS
If your wish list is looking like the beginnings of a novel, now is a great time to join Stampin' Up! so you can get a discount on your list.
If you love crafting and are looking for more connection, being a Stampin' Up! demonstrator is a great way to do more of both!
Now is a fabulous time to join Stampin' Up! From May 4th to May 31st you'll get a bonus of even MORE FREE products in you customizable Starter Kit. It's the best way to get more of the new catalogue goodies at a great discount and start something wonderful at the same time!
The increased kit value lets you pick even more of what you want in your customizable kit! As always you'll also get
free business supplies + free shipping +
all the fun being a part of Stampin' Up!
Don't miss this great deal, join my team of fun and creative crafters today!
Choose $206 in Stampin' Up! products for only $135!
If you don't think demonstrating is for you, joining to get the discount on your personal purchases is a great benefit. You can enjoy a discount of 20% or more on all future orders. Whether you join to share creativity, hold workshops and earn money, or get a great discount on your orders, we have options. All while doing what you love to do – stamp and share!
PICK YOUR OPTION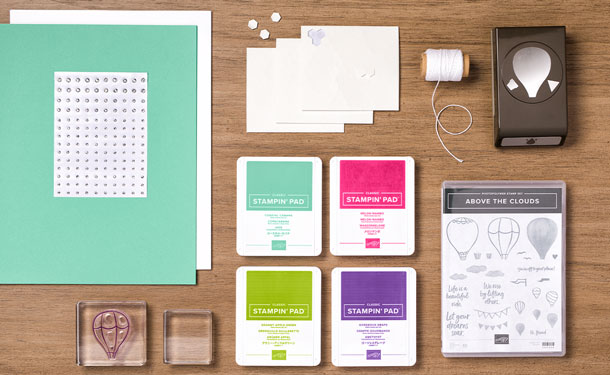 AMAZING VALUE!
So let's recap – For a flat fee of only $135:
Choose up to
$206 
of any Stampin' Up! products of your choice for your kit. Choose from current catalogues, bundles, and Clearance Rack.
20% discount!
Enjoy a minimum of a 20% demonstrator discount every day.
Free Shipping!
The starter kit ships FREE for another 10% savings. 
No risk!
You'll have through the end of your first full quarter (June 2020) to "test drive" demonstrator discounts and benefits.
No penalty!
If you reach $400 in sales during July-September, you automatically remain active for another quarter. If you don't reach $400 in sales, you can "drop" with no penalty, and you keep everything from your Starter Kit.
No catch!
There's no obligation to hold workshops or parties, sell products to others or personally purchase anything beyond the kit.
CUSTOMIZE YOUR KIT
---
CONNECT, CRAFT & CREATE PROMOTION
GET MORE FREE PRODUCTS WITH OUR HOST REWARDS!
From 4 May–14 June 2021, qualifying orders will receive our generous Stampin' Rewards PLUS additional rewards! Get an extra $30 over and ABOVE the host rewards you are already entitled to when your order is a min. $300! Click HERE to learn more.

I LOVE our new HOST ONLY stamp sets and 12″ x 12″ Designer Series Papers! These are hard to find on the website (especially if you don't have a copy of the catalogue yet), so I'm sharing them below so that you ca check them out:
You can find the host reward products on pages 170 & 171 in the new annual catalogue. Remember, these are host only options and you need a qualifying order of a min. $200 to have the option to purchase these exclusive Stampin' Rewards.
Don't have a copy of the new catalogue yet? Contact me to get yours! Pop me an email at serenestamper@gmail.com

Need help placing your order OR getting the awesome STARTER KIT? Have questions? Please feel free to contact me – it's always my pleasure to help!
---
Pssttt…. Later this morning I'll be announcing my NEW In Color Club for 2021-2023!!! Get ALL of the new In Colour products in a budget-friendly way! I'll be sending out an email with all the details shortly! 
Enjoy the day, stay well & HAPPY SHOPPING, I mean STAMPING! (Seriously, you KNOW you're gonna wanna start shopping from our new catalogue! Whhhheeeee!! HAVE FUN!)