Hi Friends! It's an exciting day in the Stampin' Up! world because our new Stampin' Cut & Emboss Machine is FINALLY HERE and available to purchase!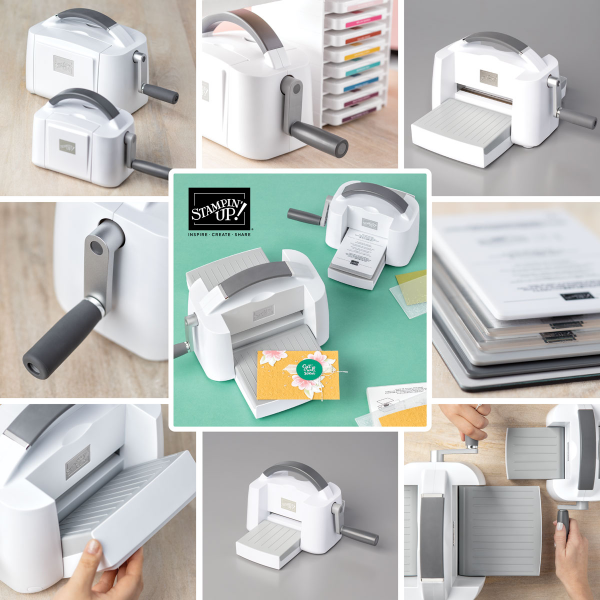 Stampin' Up! spent a LOT of time designing this machine and I can honestly tell you it's AMAZING!Demonstrators were able to pre-order the Stampin' Cut & Emboss Machine during August so I've been playing with mine for a month now and I'm super duper IMPRESSED!
Our Stampin' Cut & Emboss and Mini Stampin' Cut & Emboss Machines offer multiple die-cutting and embossing options for you, from beginners to seasoned crafters. Both of our Stampin' Up!-exclusive machines offer the highest quality and make precise cuts and detailed embossed images every time. They're also simple to store and easily portable, which makes packing for your events a cinch! They come with all the tools needed to get started right away, making it easy for you to have a fantastic die-cutting and embossing experience from the start.
So what sets our machines apart from the rest?
Here are some of our favourite features:
* Durable machines with high-quality results. The solid steel construction frame and rubber feet that securely grip the work surface produce crisp, clean, precise cutting and beautifully detailed embossing.
* Easy to use. The machines and tools are designed for an intuitive die-cutting and embossing experience. For example, all plates are labelled with a number and are colour-coded for easy reference and use when building your sandwich. And just like the name suggests, our Magnetic Cutting Plates have fully-magnetic surfaces to make it easy to securely position your dies and keep them in place.
* Simple to store. The platforms on both machines fold for space-saving storage and they look pretty too–the sleek, clean design suits any crafting space.
* Portable. You can use both machines at home or on the go with their folding platforms and ergonomic carrying handles. This makes it easy to showcase the product line in your classes and workshops! It's also convenient for your customers who like to attend crops or other crafting get-togethers.
This machine has a wide 6″ (15.2 cm) platform that works with all Stampin' Up! dies and embossing folders. Includes 1 Base Plate (Plate 1), 1 Die Plate (Plate 2), 2 Cutting Plates (Plate 3), and 1 Specialty Plate (Plate 4).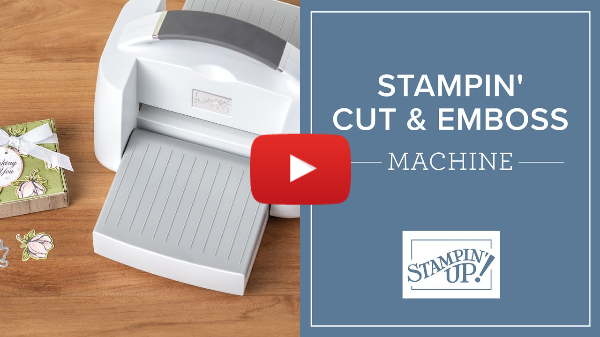 Thin, fully magnetic sheet with self-healing cutting surface. Magnetic Cutting Plate (Plate 5) holds dies securely in place, even nested dies.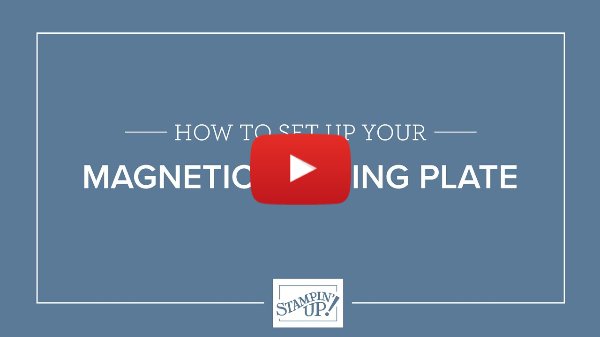 Click HERE for a PDF document that you can print out for your reference.

CUSTOMER APPRECIATION TUTORIALS!
All online orders will receive a hand-stamped card in the mail (as long as I have your mailing address) and 12 stamping tutorials will be emailed to you as a token of my appreciation for your order! Please note: these tutorials are emailed out approx. the 15th of each month.
At the end of each month, everyone who ordered with me has their name put in a draw for a free stamp set of their choice! Winner is chosen via random.org. Your name is entered for every order placed during the month (ie: two orders= two entries)
Simply enter this month's special host code prior to submitting your order through my website:
If your order is $200 or more DO NOT enter the host code so that you will also receive your stamping rewards – I will still send you the PDF tutorials.
Enjoy the day & HAPPY STAMPING!