Hi Friends! This has been a very busy week for me, but when you love your job as much as I do, it's so enjoyable. This past Monday night I did a short presentation about Stampin' Up! at a local event; last night was my monthly All Occasion Card Class; tonight is the first of a new stamp club with new stampers; tomorrow I'll begin volunteering at the CACL to teach card making and this Sunday is my Winter Stamp Camp! Wowsers. So today I thought I'd share some photos with you from the Monday night presentation.
On the third Monday of each month, my friend (and new Stampin' Up! addict), Jamie, holds her Tupperware Bingo. This event is always a blast and it's not unusual to have over 30 women attend from our tiny community. I started going a few months ago, initially to get out of the house and meet my neighbours, and it was so much fun that I've not missed a Bingo night since! Coming home with free Tupperware is also an added bonus. Jamie is very successful with her Tupperware business and for good reason – she knows her stuff, is passionate about the products and she just lights up a room with her positive presence and beautiful smile. Jamie came up with a fabulous idea to support those of us who have a direct selling business.
Each month we take a turn sponsoring a bingo game, after a short presentation about our business, and in return we bring three new guests to the bingo night. It's a win-win! Speaking of win, the prize for the bingo game we sponsor is our product. What a great way to introduce ourselves and our business to our local community! It was my turn this month, I brought seven new guests (we all went home with Tupperware gifts too) and I was excited to share Stampin' Up! with everyone.
I also did a very fast demonstration – just stamps, ink and paper.
I used the new "
Lasting Lily"
Sale-a-bration stamp set, which is truly fantastic!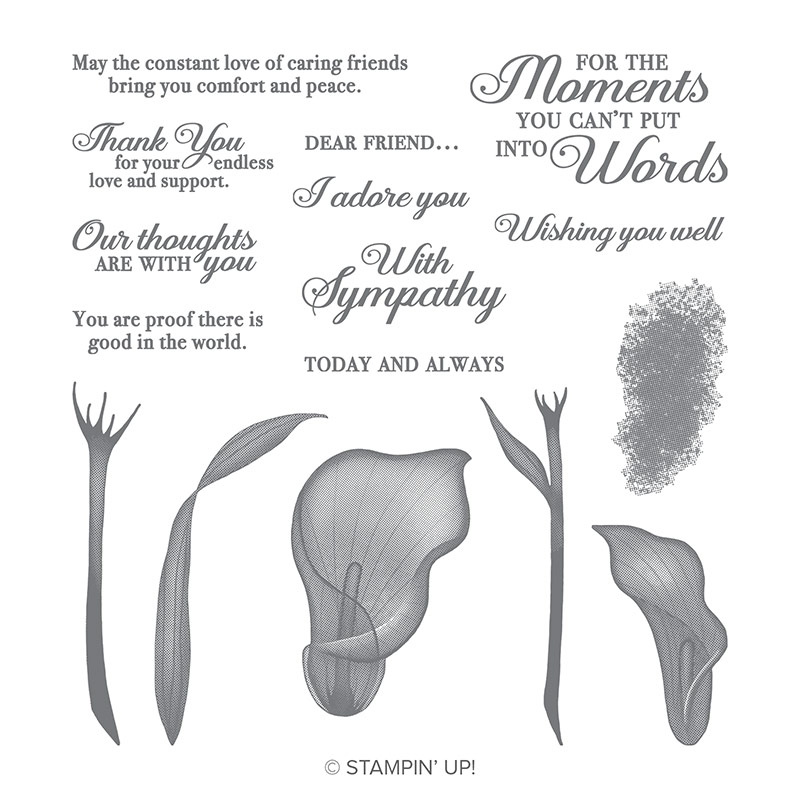 I wanted to show that anyone can make a card and that you don't need a ton of supplies to make something beautiful and worth giving. I just stamped the images onto a Whisper White card base and the card took less than 5 minutes to make:
After I stamped the above card, I showed the guests the difference of stepping it up a notch just by using our coordinating cardstock:
I put together a very quick video to show you just how awesome the "Lasting Lily" stamp set is if you've not yet seen it in action!
At the end of the

Bingo I had a station set up at my display table so that everyone could make an easy bookmark before they went home for the night. I wanted to get the stamps in their hands, as we all know what a difference that makes, right? It's magical to stamp for the first time and equally awesome watching someone who'd never done it before. "Whoaa. That is so neat! I can't believe I made that and it was so easy!". It's not uncommon to hear remarks like that and it's one of the reasons I love sharing my passion for stamping with others.
The sentiment is from another fabulous Sale-a-bration stamp set called "Part of My Story"
I met lots of wonderful ladies who really enjoyed my presentation and stamping for the first time, so I am incredibly grateful to Jamie for giving me the opportunity to share what I love! By the way, if you're looking for a Tupperware rep, let me know and I'll definitely hook you up with Jamie!
On my blog tomorrow I'll be sharing the cards we made at last night's "Monthly All Occasion Card" class!
Thanks for stopping by

~

I hope you were inspired by today's project and that you'll visit again soon!
Enjoy the day & HAPPY STAMPING!